What a title. Some days I love love the little years (don't grow up so fast, David!) and on other days everything seems to be going sooooo slowly. (Must we have a complete conversation after every step down the stairs?)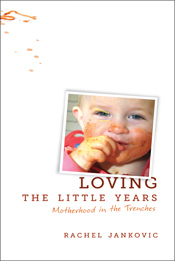 Rachel Jankovic captures a lot of this in her book Loving the Little Years: Motherhood in the Trenches. This was a quick read for me (instead of a Sunday afternoon nap).  But even if you aren't a fast reader, the chapters are very short and can be read sporadically and you won't have to worry about forgetting anything.
Rachel shares hilarious stories (especially from what it is like to raise twins) and some helpful wisdom. I love how she taught her daughters about emotions: she compared emotions to a wild horse that the daughters have been given to ride. "The goal is not to cripple the horse, but equip the rider. A well-controlled passionate personality is a powerful thing. . . But a passionate personality that is unbridled can cause a world of damage."
Here's to bridling my emotions as I teach David how to handle his emotions!