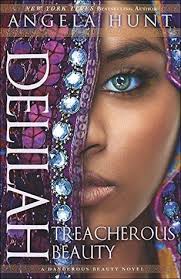 Somehow, in the middle of my two-week grad class, I read this novel: Angela Hunt's Delilah: Treacherous Beauty. I enjoyed reading it as a wind-down before bed.
This novel  flips back and forth between the story of Samson and the story of Delilah. Samson is a judge from the book of Judges in the Bible and this book is a fictionalized account of his life. I was more drawn to the story of Delilah, perhaps because I am a woman, but I did like how the story was told through two different perspectives.
I've often wondered about Delilah and what led her to make the choice she did. Hunt does give one possible backstory,  I really can't decide if I think Hunt's version is believable or not. Delilah as a person disappointed me – in the Bible, and in this novel. I don't like being annoyed with the heroine. Perhaps Delilah's betrayal seemed to come out of nowhere, or maybe I was not reading the clues.
I'm not sure that this would make a good book club book, but I did enjoy reading it as a break from my heady textbooks.
*I received this book from Bethany House in exchange for an honest review.