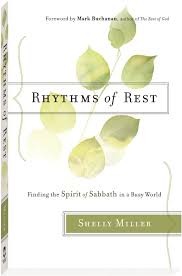 I haven't been blogging much recently, but I did want to mention a book that I received this month from Bethany House: Rhythms of Rest by Shelly Miller.
I've read several books on Sabbath and rest, but it was time for another. Things have been a bit busy in my life recently as I adjust to homeschooling my eldest along with other responsibilities. Sabbath, and setting apart time for rest is so important, especially when things are busy.
As I began reading, I couldn't quite figure out what genre this book was – I mean, I knew that it was a Christian book, but was it memoir-style or a biblical look at Sabbath, or both?  Shelly writes from her own experiences, shares snippets from others' lives, and uses Scripture to look at Sabbath.
I felt as if she was talking to me as I was reading, and I loved that – almost as if we were sitting together drinking some tea. The only thing I had trouble with is trying to figure out the overall structure of the book. I tend to be a pretty structured person and I do best when things are laid out in an organized fashion, and this book wasn't that for me. However, I could've just missed it – I did read it rather quickly, and I would like to re-read it at some point.
All in all, I found this to be an easy, encouraging read.
*I received this book from Bethany House in exchange for an honest review.