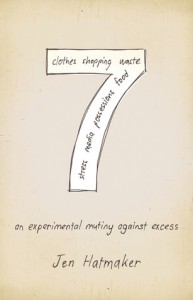 I loved, loved, loved this book. Jen Hatmaker is hilarious, challenging, and pretty transparent in her writing. As a spiritual discipline, Jen decides to fast from seven different things for seven different months. So, for example, during the first month, she eats only 7 different foods. (I think I would fail this month terribly!)  She then writes about what she discovers about herself and God in the process, including journal-like entries.
In her own words: "I approach this project in the spirit of a fast: an intentional reduction, a deliberate abstinence to summon God's movement in my life. A fast creates margins for God to move. Temporarily changing our routine of comfort jars us off high center. A fast is not necessarily something we offer God, but it assists us in offering ourselves."
I wish I could summarize all the hilarious situations that Jen recounts, but I will let you read for yourself. Oh, and I love that adoption is part of her family's story. Check out her blog for more stories and laughs.