I received Give Them Grace: Dazzling Your Kids with the Love of Jesus for Christmas and now, after reading it, I have a lot to think about.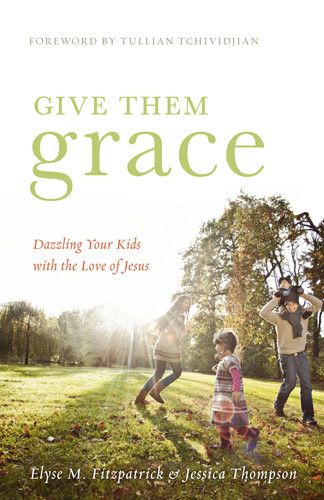 Fitzpatrick and Thompson give a refreshing picture of parenting: "When God calls our children to come to him, even if we haven't gotten it all right, even if we've trained little Pharisees or have a house full of prodigals, nothing is impossible for him. He can break through all our flawed methods and redeem all our frail errors" (p. 77).  All too often I put too much responsibility on myself for the choices David makes; there is no magic formula for guaranteeing his obedience.  This book is not just about giving our children grace, but about giving ourselves as parents grace.
Although I really appreciate the message that Fitzpatrick and Thompson presented, I was a little annoyed at one part of their work:  their example conversations when training and disciplining your children.  The explanations seemed so long!  Perhaps my annoyance is because I am currently parenting a toddler and I try to make my instructions as short as possible.  Or, maybe it is because I just finished reading The Happiest Toddler on the Block and 1-2-3 Magic: Effective Discipline for Children 2-12, both of which emphasize the importance of being succinct when speaking to children. Either way, this is only a small part of the book, and the rest of the book had a lot of wonderful things to say.
I have a lot to learn about the richness of grace. Grace for me and my family – when things are going smoothly, and when I want to scream. Grace for people who hurt me, and grace for me when I hurt others. I thought I was going to read a book about parenting, but this is a lot broader than that. I shouldn't be surprised!