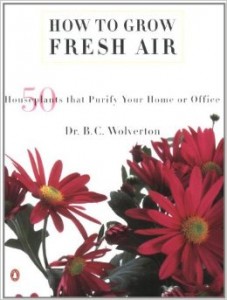 Yesterday was a great mail day- I received How to Grow Fresh Air: 50 Houseplants that Purify Your Home or Office by Dr. B.C. Wolverton.
I've been thinking a lot about indoor air quality recently, probably because it's too cold to open our windows AND we put new carpet in our upstairs.
This book is an incredible resource. I read it at the library a while ago, and decided that instead of trying to take copious notes, I should find a used copy. So I did.
Wolverton includes helpful charts such as ones that show how well a plant removes chemical vapors, and how easy a plant can be maintained. Boston ferns  remove the most vapors, but I was excited that some flowering plants, such as Gerbera daisy and florist's mum, rate pretty high as  well.
Fortunately David enjoys watering plants, so maybe I will be able to keep some new ones alive.