It has been awhile since I loved a fiction book as much as I loved this one: Hotel on the Corner of Bitter and Sweet.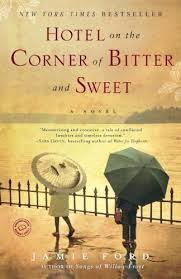 Jamie Ford's novel touches on many things I love to read about: history, family and culture, and friendship. Henry Lee, a Chinese American, looks back on his childhood in the 40s, and his friendship with a Japanese girl. This is during a time when anti-Japanese sentiment was high in the U.S.
This book helped me survive horrendous traffic while traveling this weekend. The only problem is that I wanted to eat authentic Chinese and Japanese food. Immediately. Guess I'll have to check out a cookbook in the near future.