For much of my life, I've toyed with the idea of getting more training in counseling. Now is really not the time for me to pursue any sort of formal education (new baby, buying a farm), so books will have to suffice.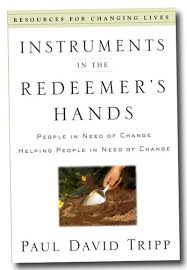 I recently finished Paul David Tripp's Instruments in the Redeemer's Hands: People in Need of Change Helping People in Need of Change. It is a large book, and not necessarily easy reading (I could not read while feeding a baby or playing with a toddler), but so so insightful. I do want to read it again, or at least read through all the parts I underlined.
Tripp shares stories from his experiences as a professional counselor, as well as strategies for people involved in personal ministry. The thing I love most about this book is that it is not just written for professional counselors, although they may find it helpful, but for all Christians – since we are all involved in relationships with each other.