If I owned this book, it would be all-marked-up.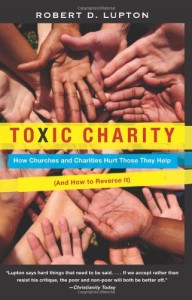 Robert Lupton, in Toxic Charity: How Churches and Charities Hurt Those They Help (And How to Reverse It), tells stories of how well-meaning individuals and organizations hurt the people that they were trying to help. Fortunately, he doesn't just talk about the problems. (Because, really, I don't want to ignore the poor – that's not helpful either!)  He gives some advice and shares stories of ways to effectively minister to people in need.
Lupton differentiates between a chronic poverty need, and a crisis need.  He writes that "When we respond to a chronic need as though it were a crisis, we can predict toxic results: dependency, deception, disempowerment."  We should be responding to both types of need – for example chronic homelessness AND homelessness due to a crisis such as a fire – but we need to respond differently for each situation.
I appreciated the personal stories he shared from his life and experience. He told the story of how his church changed from doing a clothing giveaway program to a family thrift store, and how people who used to receive free clothing are now employed at the store and able to buy what they need. I don't think that giveaways are always wrong, but I do see how there are other options that can help in greater ways.
I'm still thinking through a lot of what he wrote, and perhaps I won't agree with everything he said. He does have years of experience in community development work, however, and a lot of what he said seems to ring true, especially after I read The Poor Will Be Glad. I do want to read more on this topic, however, and I noticed that the library also has When Helping Hurts.