I sneak away to read good books, just like I sneak away to eat chocolate. If I settle down to read a novel in full view of my household, my children will want me to read to them (which I do). If I eat chocolate in front of them, we will demolish the chocolate bar together (and I will get less).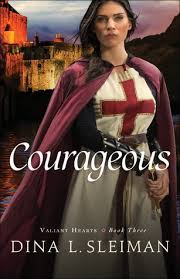 Courageous (Valiant Hearts Series #3) by Dina L. Sleiman
This was a recent read, nibbled on between canning tomatoes, preparing a sermon, and pool trips. I enjoyed it, with some caveats.  I chose to read this book because I have never read any books, fiction or non-fiction, having to do with the Crusades. As I tend to lean towards nonviolent and pacifist ideology,  I was particularly curious to see how Sleiman would handle the subject matter.
Things I enjoyed about the book:
The writing itself. Sleiman writes well-crafted, flowing sentences, unlike some other Christian fiction I've read.
The characters. I love having heroes, heroines, and villains that I can connect with. This fit the bill.
The time period. I love me some historical fiction and after reading this, I would like to do some more reading on the Crusades.
An interfaith friendship. A muslim and Christian friendship does not often happen in novels.
Themes of forgiveness – especially of oneself. I also appreciated how there was a counter-example of someone who attempted revenge instead of forgiveness.
Things I wrestled with:
Fighting and killing others in the name of the cross. I won't get into all that in this space, but I really can't condone killing others, especially for religious purposes. This novel takes place when religious and political purposes were often aligned (perhaps it is not so different now?!) The author does address this issue, especially in the author's note at the end, but we do come out at different places.
*I received this book from Bethany House in exchange for an honest review.