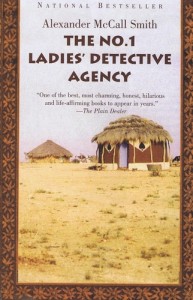 Apparently I'm really getting into mystery novels. I thoroughly enjoyed Alexander McCall Smith's The No. 1 Ladies' Detective Agency. Set in Botswana, Smith tells the story of Mma (aka Precious) Ramotswe as she sets up her detective agency. The novel features one overall mystery, as well as smaller problems that Ramotswe solves.
Things I love about this book:  fascinating (and humorous!) characters, clean light mysteries, and the faraway setting.  I do like the fact that there were smaller mysteries; this made it easier for me to set the book down when I needed to.
One thing I wonder about. . . Alexander McCall Smith is not from Botswana – how accurate is his portrayal of life there?  I didn't catch anything "wrong," but then again, I'm not from Botswana.