I Am Nujood, Age 10 and Divorced
by Nujood Ali with Delphine Minoui
I discovered this book when I was searching for books on human trafficking on Amazon. Fortunately, our local library had a copy so I could check it out.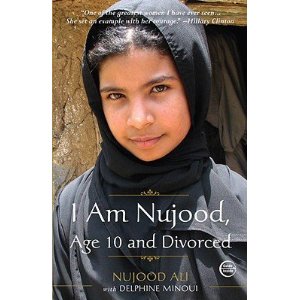 Nujood Ali, a 10-year-old girl from Yemen, tells her story of being married, abused, and divorced, all before the age most American girls have a boyfriend. Apparently it is common in some areas of Yemen for very young girls to be given in marriage, with the understanding that the husband will wait for sexual relations until the girl reaches puberty. Nujood's husband did not wait.  He also abused her physically and verbally.
I wish I could say that Nujood's life got immediately easier and better after her divorce, and maybe today she is doing well.This CNN article shares more, but even that was written in 2009. I pray that Nujood would continue to be a courageous woman who inspires many.
What I learned or gained from this book:
a window into life in rural Yemen
a sense of compassion for families like Nujood's, who find themselves in very difficult circumstances with difficult choices
a reminder of the incredible gift that my childhood and education was AND how precious my husband is
a desire to look into ways to help others. . . especially women. This ties into what I've been learning about Hope International and their small business loans. How can I really help people around the world, instead of just giving easy hand-outs?