Thanks to my friend for recommending this book: Little Princes: One Man's Promise to Bring Home the Lost Children of Nepal by Conor Grennan.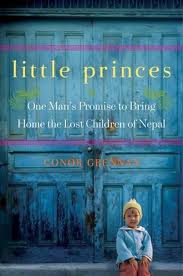 Grennan tells the story of how a short volunteer stint at a orphanage in Nepal transformed his life. He discovered that the children he thought were orphans were actually trafficked children with living parents. He then works to find the parents of the children, and also to stop other children from being trafficked by starting Next Generation Nepal.  Intertwined with this story is the story of how Grennan met, dated, and married his wife.
Grennan's story starts a little slow, but once I got into it I could not put it down. Fortunately, I had plenty of time to read on our road trip.