I found Sold when I was searching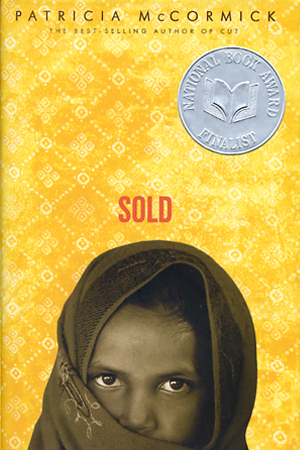 for books about human trafficking. I put off reading it because it is fiction, and I wanted to read more personal accounts. I discovered, however, that Patricia McMormick researched extensively before writing.  I am glad that I did take the time to read it. And really, it didn't take that much time; it is a quick (though heavy) read.
As I read Sold, I kept reminding myself This is fiction and that didn't really happen to Lakshima. But the more I thought about it, I realized that although the details are made-up, the overall story is repeated around the world more often than I would wish.
Lakshima, a 13-year-old girl, lives with her family in the mountains of Nepal. After a series of difficulties, she is sold from person to person, eventually winding up in a brothel in India. McMormick tells Lakshima's story as a series of vignettes. I love her style. She also handles the topic and events sensitively, but I would still only recommend the book to mature readers. My local library places Sold in the young adult section.
Check out my posts on these related books: I am Nujood, Age 10, and Divorced and The Slave Across the Street.
I'd like to read Forgotten Girls and Slave at some point. (And Patricia McCormick's other books). I think I will always have a large list of books to read.
But really, its not so much about what I'm reading, or what I want to read. What am I doing with what I know? How am I growing in active compassion?