I'm afraid of power tools. I like all of my ten fingers.  However, ever since watching my dad create things in his shop during my childhood, I have been fascinated with wood, and creating things with wood. Even though I have made several projects (with a LOT of assistance),  I lack the "can-do" attitude in regards to wood that I have in other areas of my life.
I'm determined to change this. I found a book to help. Of course.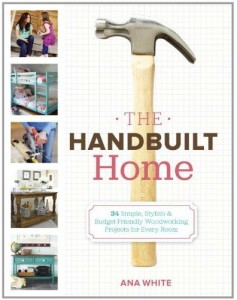 The Handbuilt Home,  written by Ana White, is full of wood projects made by women. (Now, men can make these projects too, but I was particularly excited to see projects that other women made. Part of my lack of confidence goes back to my assumption that wood is a man's thing.)
Ana White runs a great blog as well — check it out here: ana-white.com  — but what I love about the book is its organization and projects.  For each project, Ana identifies what level of skills you need, the general price range, and how long the project should take. She has beginning through advanced projects and they are all beautiful and practical. I think I will start with a picture frame or gallery ledge. . . but I can always daydream about the child-sized adirondack chair and farmhouse picnic table.
I also picked up the Complete Idiot's Guide to Woodworking from a thrift store for a buck.
Although these books are very cool, I know that the people around me will probably be the most help. Thanks in advance, Josiah and Dad.
If you see me wandering around Lowe's with a puzzled expression, you know what I'm up to.